Versatile in all styles of music, Craig Christman plays sopranino, soprano, alto, tenor, baritone and bass saxes; flute, alto flute, & piccolo; clarinet, and bass clarinet. He attended the University of Miami as a double major in Music Business and Studio Music & Jazz Performance, studying under Gary Keller and Gary Campbell. Craig is also a musical instrument repair technician, focusing on professional level instruments. Since graduating U.M. in 1998, he has become one of South Florida's most in-demand woodwind performers and repair specialists for both brass and woodwind instruments.
Having studied both classical and jazz at U.M., Craig regularly performs in many jazz, R&B, dance, rock & soul bands, symphony orchestras, various classical and wedding ensembles, as well as studio recording sessions throughout Miami, Tampa, Orlando, Naples, and Fort Myers. Craig has been a featured soloist with the Naples Philharmonic Orchestra, the Southwest Florida Symphony, and the Charlotte Symphony Orchestras. He is also an accomplished arranger having written orchestrations and horn section arrangements for concerts, recording sessions, and classical music ensembles for weddings. In addition to contracting ense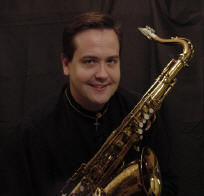 mbles for weddings, corporate functions, and other events, he also has performed with artists such as: Brian Wilson, Lou Rawls, Bernadette Peters, Bobby Vinton, Frank Sinatra Jr., The Four Tops, The Temptations, Johnny Mathis, Frankie Valli, and many others. Craig has been the leader, as well as a featured soloist, with bands that have opened concerts for Bruce Hornsby, Marie Osmond, Nelson Rangell, and Richard Elliot. His multi-instrumental skills have allowed him to play with many local theater groups as well as with the touring Broadway shows: Wicked, Hairspray, Spamalot, 42nd Street, The Sound of Music, Thoroughly Modern Millie, My Fair Lady and many others that travel throughout Florida. Some of the local bands that he has been a member of include: Rock-n-Soul Revue (R.I.P. the finest soul band in all of south Florida, may it be resurrected soon!), R&B Connection, The Mambo Brothers, the Stu Shelton Trio, the Naples Jazz Orchestra, and many others. Some of Craig's musical influences are: Michael Brecker, Maynard Ferguson, Lenny Pickett (SNL & vintage Tower of Power), Cannonball Adderley, Phil Woods, Steve Grossman, Branford Marsalis, Gene Ammons, David Sanborn, Gordon Goodwin, Bob Berg, Jerry Hay, Dan Higgins, Klaus Thunemann, James Galway, Rolf Smedvig, Sabine Meyer, Bill Watrous, Carl Fontana, Nick Brignola, Sonny Stitt, and Ronnie Cuber.
His quest for excellence as a performer also shows in his repair work. Craig is a specialist in Oboe, Flute, Clarinet, Bassoon, Trumpet, Trombone, and Saxophone repair and takes great pride in his work. He apprenticed in the art of musical instrument repair under Tom Kracmer, the owner of Cadence Music, and is devoted to perfecting his craft. Craig repairs instruments for the faculty and students at the University of Miami, Florida International University, New World School for the Arts, professional musicians from all around Florida, the clarinet, flute, and oboe sections of the Naples Philharmonic and Southwest Florida Symphony, as well as professional musicians from all around the world! He repairs instruments for such luminaries as: Wayne Shorter (Jazz Legend!), Gary Keller (sax professor at the University of Miami, author of The Jazz Chord/Scale Handbook & Sonny Stitt's Transcribed Solos), Brandon Fields, Ed Calle (sax player with Arturo Sandoval and has his own recordings played on many jazz radio stations nationwide), Dale Underwood (classical saxophonist extraordinaire and former soloist with the Navy Band), Gary Campbell (saxophonist, composer, professor of sax at Florida International University and author of Expansions, Connecting Jazz Theory, Triad Pairs for Jazz as well as co-author of Patterns for Jazz), and Mike Scaglione (Miami Sound Machine, Maynard Ferguson Big Band in the early 90's, Julio Iglesias, and many others).
Music is a passion for Craig and it is his mission in life to help others through his God-given abilities. If you would like to see or hear Craig perform, please check the calendar page for upcoming events, or contact Craig for upcoming performance dates. Please visit the Audio Clips page to hear some MP3 samples of Craig performing either solo or with various ensembles. Craig is currently accepting a limited number of students for private instruction in saxophone performance, flute & clarinet doubling, jazz improvisation, sight-reading and other related topics.
To discuss lessons, any repair concerns you may have, or to schedule an appointment, please contact via E-mail or call 239-823-7240.
Some of Craig's interests include: flying, computer repair and website design, collecting (and reading) old books, vintage microphones, studying history and law, and cars. Craig is an instrument rated private pilot and hopes to soon build a Van's RV-10 aircraft. He is a pilot with the Sundowners, a local aerial search organization that looks for people stranded in the coastal waters of SW Florida with a small fleet of Cessna 172 aircraft. Early in life, Craig wanted to be an airline pilot and play the music for fun. Interestingly, music became his career and he flies for fun! He is able to fly as part of his career, though, by flying to gigs as well as to pick up and deliver repairs around the state. During the school year, Craig flies to Miami to do on site repairs at U.M. every other Friday. It's a pretty cool way to make a living!
Craig is happily married to oboist Ruth Christman! Ruth is the Executive Director of The Music Foundation of Southwest Florida, a non-profit organization that helps kids study music by giving scholarships for lessons, providing music summer camps, a traveling instrument program, and many other programs. Craig, Ruth and their 4 year old daughter Emily live in Fort Myers on 5 acres they've dubbed their private nature preserve. Lots of trees, wildlife and a big pond makes working from home a real pleasure!
Thank you for visiting my site and please feel free to contact me with any questions about the services I offer.
God Bless!


Home Services Contact Info Weddings Audio Clips Video Clips Song List
Calendar Repairs Testimonials Craig's Faves Photo Gallery Links