Wedding Music by Craig Christman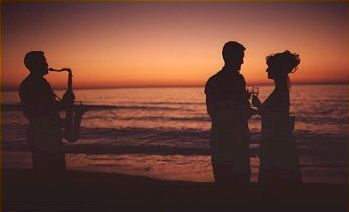 With over 19 years experience performing throughout Florida, across the U.S. and around the world, Craig Christman knows what it takes to make the music for your special day the best it can be! Having performed on sax, clarinet, and flute with international celebrities like Johnny Mathis, Bernadette Peters, and Michael Bolton, as well as being the leader of his own ensembles, Craig knows how to put the right kind of entertainment together for your special event. Known for his professionalism and attention to detail, he always works closely with you to find the perfect music for every occasion. Whether it's yesterday's classics or today's hits, Craig has the songs that will make your event perfect!
Craig regularly performs as a solo saxophonist and flutist at weddings on Sanibel and Captiva Islands, as well as the Ritz-Carlton and Naples Grande (formerly known as the Registry Resort) in Naples and other venues throughout Southwest Florida. In addition, Craig also leads ensembles from 2 to 12 pieces and functions as the Master of Ceremony for receptions. There are many weddings where Craig will perform live music for the ceremony or cocktail hour, then MC for the reception. Please click the links below for information on solo sax/flute, Windsong flute & harp duo, jazz trio, 5-piece band or larger.


Christman Music has been rated by local brides and voted The Knot Best of Weddings 2008/2009 Pick. Please pick up a copy of "The Knot Best of Weddings 2009" magazine and check out our listing!
The following is a brief list of some of the popular pieces I play for wedding ceremonies:
| | |
| --- | --- |
| Processional from Royal Fireworks Music | Handel |
| Processional from St. Anthony Chorale | Haydn |
| Rondeau | Mouret |
| Canon in D | Pachelbel |
| Jesu, Joy of Manís Desiring | Bach |
| Bridal Chorus from Lohengrin | Wagner |
| Trumpet Voluntary in D (very short sax version) | Clark/Purcell |
| Ave Maria | Schubert |
| Gymnopedie 1, 2, & 3 | Satie |
| Wedding March from Midsummer Nightís Dream | Mendelssohn |
| Trumpet Tune | Purcell |
| Sheep May Safely Graze | Bach |
| Be Thou With Me (Bist Du Bei Mir) | Bach |
| Polovetsian Dances (Stranger in Paradise) | Borodin |
| Love Theme From Romeo & Juliet (Our Love) | Tschaikowsky |
| Time for Us from the Movie Romeo & Juliet | Rota |
| All I Ask of You from Phantom of the Opera | Webber |
| | |
One of Craig's favorite ensembles is Windsong, a flute and harp duo featuring Leslie Gregory on harp and Craig on flute. Windsong is a wedding favorite around Sanibel, Captiva, Naples, and the greater Southwest Florida area. Below is a list of highlights from their repertoire, which are some of the most popular selections for weddings. If you have a favorite song that's not listed here, please contact me and I will be happy to arrange it for you. Selections marked with the MP3 logo were recorded live at a recent ceremony in the beautiful Resurrection Catholic Church in Fort Myers Florida, so you might hear applause as well as some background noise. Once you hear the samples, you'll agree that Windsong harp and flute duo is perfect for that extra touch of elegance for your event!
Wedding Music
Bridal Chorus
Canon in D
Ave Maria (Bach-Gounod)
Ave Maria (Schubert)
Trumpet Voluntary
Trumpet Tune
Rondeau
Wedding March
Jesu, Joy of Manís Desiring
Simple Gifts
Be Thou With Me
Panis Angelicus
The Lordís Prayer
Sheep May Safely Graze
Morning Has Broken
Ode to Joy
Wedding Song (There is Love)
Wedding Song Kenny G
One Hand, One Heart
A Time For Us
The Prayer
Sunrise, Sunset


Classical & Traditional
Air on a G String Autumn from the Four Seasons
Intermezzo from Cavalleria Rusticana
Spring 1st Mvmt from the Four Seasons
Spring 3rd Mvmt from the Four Season Selections from the Water Music Suite
Trois Gymnopodies I
Entríacte from Carmen
Greensleeves
The Water is Wide
Londonderry Air

Contemporary & Standards
A Whole New World
All I Ask of You
Always and Forever
Annieís Song
As time Goes By
The Best for Last
Can You Feel the Love Tonight?
Endless Love
Everything I Do
Forever in Love
From this Moment
Have I Told You Lately?
I Canít Help Falling in Love
I Knew I Loved You
Make Someone Happy
My Heart Will Go On
Norwegian Wood
Colors of the Wind
The Rose
Try to Remember
Through the Eyes of Love
Unchained Melody
Unforgettable
Valentine
You Are So Beautiful
What a Wonderful World
When I Fall in Love
Wind Beneath My Wings


Music from Broadway Musicals
Phantom of the Opera
Cats Sound of Music Fiddler on the Roof Les Miserables
Evita
Jesus Christ Superstar
Thanks for visiting my Wedding information page! Please contact me if you have any questions about the services I offer or if I can help you in any way.

Home About Craig Services Contact Info Audio Clips Video Clips
Song List Calendar Repairs Testimonials Craig's Faves Photo Gallery Links


southwest, south west, naples, captiva, fort, ft., myers, meyers, naples, captiva, sanibel, cape coral, estereo, estero, pine island, cayo costa, useppa, boca grande, florida, romantic, elegant, classy, flute, harp, duo, windsong, sax, saxophone, wedding, music